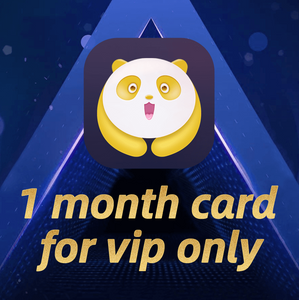 1 Month Card for VIP only
Product desciption:
Discounted price of the 1 month card. Only for users who are already VIP.
    Panda Control can help users to mirror iOS and Android devices to PC, control iOS and Android devices from PC, achieve high-definition and low-latency mirroring via USB connection, and use PC as the receiver of Airplay.
    For example, when it requires online presentations in meetings, trainings and other occasions, users can use Panda Control to quickly mirror the screen of their Android or iOS devices to PC in the meeting room.
    At the same time, Panda Control also support the AirPlay protocol, which allows mirroring any iOS device to any PC, regardless of whether it is shared using Zoom, Google Meet or other meeting tools.
Notice:
    As it is a virtual item, once it is shipped,this item is non-returnable.But if the account is not available, we will send you a new account.
    Please contact us, if you have any questions.
    Contact email:panda.control.official@gmail.com